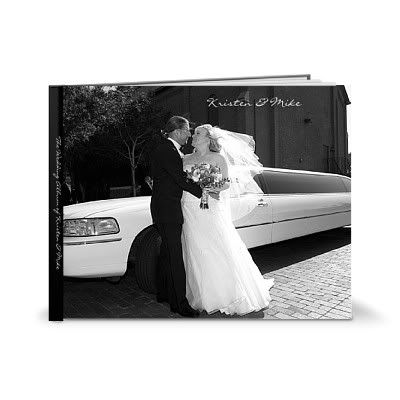 Shutterfly.com
is a great online photo website, which is excellent for doing creative things with your wedding photos! You might be receiving a wedding album from your photographer for you and your groom/bride, but its a great resource to use so you can create your own albums to give to family members for birthdays, holidays, or any occasion. The receivers will be blown away by the detail you put into creating something to special.
To get started, you'll need to create an account with
Shutterfly.com
, which is FREE. Plus, singing up garners you free photos! Once you're signed in, upload your photos into an album, and go to the "store" tab, and search for photo/memory books.
When you select photo books, you'll be presented with the "simple path" or the "custom path". I used the custom path to really personalize it, and made it very simple. On the simple path page, after you've selected the book size, 8X11 is widely used, towards the bottom you'll see "shop by occasion". I wasn't fond of the offerings for wedding, so I chose "portfolio" which can be found by selecting "see all occasions", "portfolio" is towards the bottom of the list under "interests". Once that is selected, click "get started", you'll be directed to a page that looks like this:
The left hand column of "style" you can select whether or not you want the suggested page backgrounds, here I chose to have all black. You'll be able to select what font you want, but I found it easier to do the font and text after pictures were placed the way I wanted them. Click "next" at the upper right hand corner, and you'll see something like this:
Here you will click the little bubble at the bottom to "get pictures" from what you uploaded already. Then let your creativity flow, picking images you want on which pages. The left hand side of the screen has three tabs: "layouts", "backgrounds", "edges".
Layouts helps you pick how you want each page to look, and you can click each layout to see which is best. You can drag and drop your desired picks into the vacant boxes, and if you don't want them there, you can drag and drop them back in the photo area at the bottom of the page.
Backgrounds enables you to switch up the color of your choosing. And here you can even chose another style outside your selected style. There is a drop down box where you can go to another style and pic a page. This can make it seem like a lot of work to customize each page, which is why I chose to stick with black the whole way through.
Edges gives you options of how you want your photos to appear, whether you want a full page of just photo with no edges, or cropped like they would be in a regular photo album with frames. This can take time as well to figure what you want.
Enjoy this creative process, play with what's before you, take your time. It took me a week before I ordered my book, I made changes, played with the fonts, the edges, and in the end I had a beautiful photobook from
Shutterfly.com
to give to my mother and mother-in-law for Christmas, they both broke down in tears!
For your viewing pleasure, I have the slideshow of my photobook here, hopefully it inspires you when it comes time to creating your own memory book with
Shutterfly.com
, for your wedding, or any occasion!
Enjoy!
Happy creating!
Subscribe to this blog