Do you ever run into issues on what to get the men in your wedding party? It seems the typical gifts for the groomsmen and fathers from the grooms are flasks, tumblers, and cuff links. Those might be great and all, but how often are they used? Flasks might be used the most, but the cuff links might come out a few times post wedding. What about something the men in your life could use over and over again, and really enjoy the uniqueness of such a gift?
Well, we just might have the perfect gift idea for you-handcrafted wooden pens! These beauties are made by Brian of
Elegant Woodworking Gifts
. I've not seen pens like these, and what a statement they make. What's most important is that these are hand made by Brian's amazing woodworking skills.
Based in Redmond, Oregon, Brian Wachs is a local artist who works as a natural resources teacher in his spare time. Much of the inspiration for his work stems from his love of the outdoors and results in both a technical understanding of detailed species, characteristics, and science of his products balanced with an immense reverence for the beauty and mystery of nature. Look for the fine details and nuances to appreciate the imperfections and inconsistencies that make natural products so wonderful and unique.
Founded in 2005 by Brian Wachs, Elegant Woodworking Gifts creates elegant, custom-made wooden products using the highest quality products while keeping the local community intact. We also do our best to make a positive impact on the world around us.

To appreciate the beauty, intricacy, and character of each piece pays homage to our natural world and reduces the culture of a mass-produced, disposable, and irresponsible mentality.

Producing the highest quality products while keeping the local community intact is important to us, so we buy local products and services whenever possible.
Check out a few of his creations of pens & more: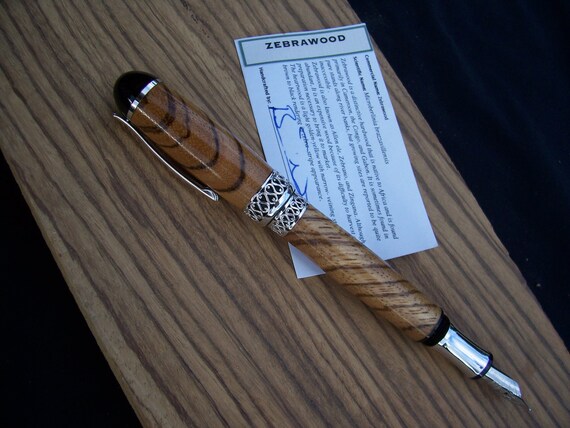 Aren't these products beautiful? The quality of craftsmanship in each of his creations is apparent. The fact that these are handmade from beautiful resources found in nature enhances their beauty.
Do you see yourself purchasing one of these unique gifts for the men, and women, in your wedding party? Well today we are happy to report that one lucky
Savvy Deets Bridal
reader will have the opportunity to win a
Baron Fountain Pen
!
Simply fill out the widget below to enter the drawing, and good luck!